Top Speed
Search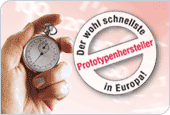 Top Speed by CONTAG AG
What is a Top Speed job?
We will make your printed circuit board within 24 hours for a Top Speed job. We can even make it in about 4 hours, depending upon the complexity for a Hyper Speed job. And all of this without giving prior notice. For your printed circuit board, we will drop everything else and rush your job straight through to production. This is a sophisticated and well-coordinated system, which has made us to the quickest manufacturer of prototype printed circuit boards in Europe for many years now.

Why speed?
"We will pull the chestnuts out of the fire for you." If:
Production is threatening to come to a standstill due to a material fault
Your customer is threatening to claim compensation if you do not deliver punctually
An important job has to be manufactured in the shortest possible time


CONTAG AG comes to the rescue, if one of your projects or a supplier's project is drifting off course
The benefits to you!
There is always a reason to be quicker than the others. Look at the advantages:
Higher margins from swifter entry to market
Customer satisfaction and resulting long-term commitment
Competitive advantages
Secures planned development targets
Maintenance and reduction of development times, reduction of development costs
and much more


Your personal contact

Torsten Malsch
Head of Marketing & Sales
+49 30 351 788 -310
torsten.malsch

contag.de
Quick-Links