SPEED no limit
Search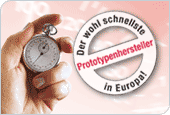 Focus on speed
SPEED here at CONTAG AG means being the fastest manufacturer of printed circuit boards prototypes in Europe. For you, it means:



Speed from the word go
Swift production of quotations and answers to queries
Quotations for printed circuit boards immediately


Choose the delivery time yourself
With us, you set the delivery time yourself.
We can make every delivery date. You won't hear "Very sorry, we have no capacity free at present" from us.
You will get controlled, maximum speed at every time of the day or night,
on request also in special shifts.


Matchless speed
What other companies call Top Speed, is what we call STANDARD
Simple circuits from 4 hours
Multilayer from 14 hours
No previous agreement is necessary
Technical queries will be processed as quickly and precisely as possible


Deliveries consistently on time
The punctuality for the delivery of your printed circuit boards is 100%
If there is a production delay at CONTAG AG, we then deliver your printed circuit boards using an express service or by a direct courier - at our expense, of course. You can rely on us.


Your personal contact

Torsten Malsch
Head of Marketing & Sales
+49 30 351 788 -310
torsten.malsch

contag.de
Quick-Links

Enquiry, Order

Products

Technologies

Delivery date system

Contact