Impressions from the topping out ceremony 2006
To our guests for the topping out ceremony,
we would like to express our heartfelt thanks for your visit and for the many gifts. We hope that you enjoyed the event and had as much fun as we did. We recorded a few impressions of the event and collected them together for you. I hope that you like it.

Your Andreas Contag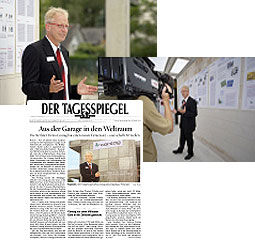 The press conference
The topping out ceremony for the new CONTAG head office was celebrated on 18th August in Berlin, in P?wesiner Weg 28-30.
A total of 400 guests from the world of politics, industry and the community came to Spandau to congratulate Andreas Contag and his team.
The press conference was attended by journalists from radio, television, daily newspapers and technical journals. Amongst others, Berlin's TV channel "rbb" recorded the event and featured it on the same evening at 21:45, in their evening news programme "rbb-aktuell". The Berlin daily newspapers "Berliner Morgenpost" and "Der Tagesspiegel" also reported the event on the front pages of their business sections. A week later, the radio channel "Inforadio Berlin-Brandenburg" broadcast a report about the company.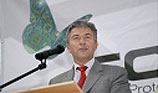 The speeches
Early in the afternoon, leading politicians and businessmen offered the company their best wishes.
The speakers included Berlin's governing mayor - Klaus Wowereit, Spandau's mayor - Konrad Birkholz, the assistant general manager of Berlin's chamber of commerce (IHK) - Christian Wiesenh?tter and many others.
The official part of the ceremony was completed by the traditional address from the site foreman as well as by the traditional hoisting of a decorated crown to symbolise the topping out of the building.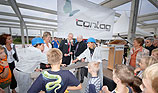 The celebration
After Andreas Contag declared the buffet to be open, a very entertaining afternoon followed. The Samba-Kids drummed Brazilian rhythms, the CONTAG trade fair booth was open for visitors to learn more about the company's products, and the walls were decorated with display panels illustrating the company's 24 year history.
Some traditional building worker's games and dancing then finished off the evening.
On the way home, everyone was looking forward to the inauguration party in summer 2007.
Should you have any questions, ideas or requests, do get in touch with our marketing manager Mr. Ren? Drescher.